Have you seen the movie Julie and Julia?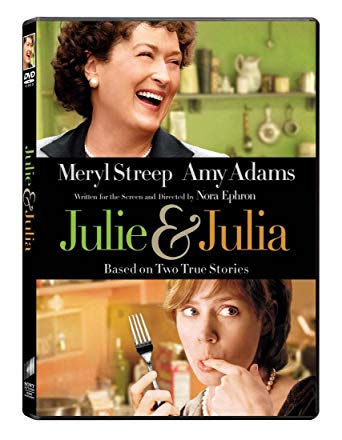 What I love about it, aside from the performances of Meryl Streep, Amy Adams and Stanley Tucci, is how it focuses on the aspirations of two creative women looking for something meaningful and finding it even after several abortive attempts. Their something meaningful happened to do with food and cooking exciting dishes.  They even made poached eggs look mouth watering.
I've also been watching some films based on the works of Charles Dickens; Great Expectations; David Copperfield; Nicholas Nickleby. Dickens wrote fourteen complete novels and numerous short stories with memorable characters such as Ebenezer Scrooge, Pip, and Sydney Carton. Who can forget Sydney Carton preparing to die to save the life of another man in A Tale of Two Cities? 
It is a far, far better thing that I do than I have ever done.
Dickens contrasted great wealth and privilege with abject poverty and abuse. The plight of orphans and the powerlessness of women without means are recurring themes. The bad guys get their just desserts which is what makes Dickens' works so satisfying.
So how did they do it?
Three things creative people do
According to Cindy Foley in her TEDx talk, there are three things creative thinkers do:
cope well with ambiguity
generate ideas
go where the research takes them.
Creative people are always asking questions, questions which might seem unrelated to each other but which take them on journeys of discovery. They never know where they will end up. They just start somewhere, with whatever is in their means and see what develops.
In the film, Julia  Child started with a love of food and cooking and took eight years to write a French cook book in English. Julie Powell started by giving herself a year to try all the recipes and her blog successful blog led to a book deal. Dickens started with his own life, often writing in instalments and became a literary giant.
None of these creatives knew where they were headed when they began: they were willing to experiment, make mistakes, learn. They didn't always get it right – Debate continues about which of Great Expectations alternative endings works best. Which one do you prefer? –  but they were willing to start over again and again.
So play, experiment and follow where your questions lead. You may not end up with a product every time, but you will increase your chances of getting there one day.
Time to share: what do you do to boost your creativity?